T&T Marine Provides Gulf Cleanup Response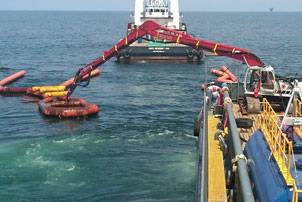 T&T Marine Salvage, a leading provider of maritime support services, has responded with manpower and equipment to help clean the oil spill in the Gulf of Mexico.

"Our crews have been working 24 hours a day, seven days a week to assist in the Gulf of Mexico cleanup effort," said T&T Marine Salvage Vice President Kevin Teichman. "We have flown in personnel and equipment from our response bases around the world for this ongoing project. Although we have a vast amount of assets dedicated to this spill, we also are maintaining readiness in our other areas of operation to ensure our customers are covered."

T&T Marine Salvage's response to the cleanup efforts includes personnel mobilized in Florida, Alabama, Louisiana, Texas and offshore. Equipment includes spill containment boom, response vessels, skimming vessels with a total capacity of more than 20,000 GPM, offshore offloading equipment, vacuum trucks, pumping systems and heavy machinery. Operations include inland and offshore skimming, offshore oily debris recovery, offshore offloading of smaller skimming vessels, protective booming and beach cleaning.