Navigation Safety: New Edition of Admiralty Digital Publications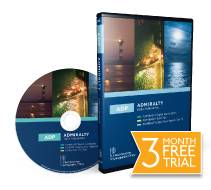 The United Kingdom Hydrographic Office (UKHO) has launched its latest edition of ADMIRALTY Digital Publications (ADP), Version 14. Free as an upgrade to existing users and available as a 3 month free trial to new customers.

UKHO inform that 75% of the world's fleet of vessels over 2,000 gross tonnes has now been approved to use digital publications in place of their paper equivalent.

ADP's suite of digital navigation publications, includes: ADMIRALTY Digital List of Lights, ADMIRALTY TotalTide, and, ADMIRALTY Digital Radio Signals Volume 6, which provides essential maritime radio communications information for 3,600 service locations worldwide.

Version ADP v14 will provide onboard navigation teams with an array of new features that will help them to plan their voyages in a safe and efficient fashion by arming them with new content and greater ease-of-use, plus integration with the ADMIRALTY e-Navigator back-of-bridge software solution.

The new and improved features available in ADP v14 include the ability to view ADP in ADMIRALTY e-Navigator's Planning Station, the leading back-of-bridge software solution that is used by onboard navigation teams for voyage planning, chart management. ADP v14 can be displayed over ADMIRALTY Vector Charts Service (AVCS) or ADMIRALTY Raster Charts Service (ARCS) data within e-Navigator to help with voyage planning.

Hugh Phillips, Head of Product Management, United Kingdom Hydrographic Office, said: "The UKHO has continued to invest in the development of ADMIRALTY Nautical Products and Services in order to provide the seafarer with the very latest benefits of a digital format, including additional functionality and data, presented in an easy-to-read and easy-to-use format. What is more, integration of ADP v14 with e-Navigator and AVCS means that it becomes a really powerful tool for voyage planning".