DNV GL Publishes 2050 Maritime Forecast Report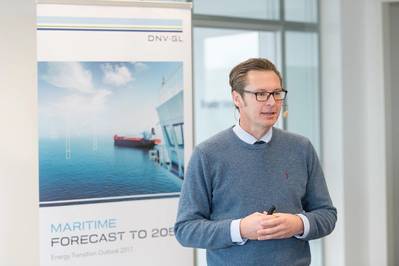 A transitioning energy industry will change the shape of shipping, but not its importance to the global economy, says DNV GL.
In its recently published Maritime Forecast to 2050, DNV GL analyzes a changing global energy system's impact on the shipping industry through to 2050, exploring how factors such as expected shifts in
energy production
and demand, GDP growth, industrial production and regional manufacturing might affect the maritime industry and individual ship segments.
"Big and rapid changes are happening in the way the world uses and produces energy," said Remi Eriksen, Group President and CEO of DNV GL. "Our Energy Transition Outlook (ETO) shows that by mid-century, the energy supply mix is likely to split equally between fossil and renewables. Advances in
energy efficiency will
also see the world's demand for energy flattening after 2030. These trends will impact all players in the maritime sector."
According to the Maritime Forecast, shipping is projected to continue to enjoy robust growth heading to 2030. From 2030 to 2050, demand continues to increase, but less rapidly – with the growth primarily in non-energy commodities, such as the container trade and non-coal bulk.
"In the Maritime Forecast we can see the trends of today become the paradigms of tomorrow," said Knut Ørbeck-Nilssen, CEO of DNV GL – Maritime.
The report predicts that in addition to the changing energy production and export patterns, shipping's fuel mix will become much more diverse.
DNV GL said
oil will remain the main fuel option for trading vessels in 2050, but natural gas will step up to become the second-most widely used fuel, and new low carbon alternatives will proliferate.
"Shipping will continue its drive for greater efficiency by reducing costs, improving utilization, lowering fuel consumption, increasing vessel size and deploying new technologies," Ørbeck-Nilssen said. "The current wave of digitalization transforming the industry will also have a profound impact – advancing design and operation and creating new business models."