Ingalls to Reactivate East Bank Facilities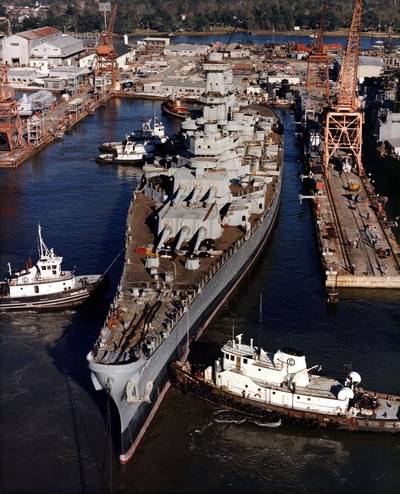 Huntington Ingalls Industries announced Thursday that its Ingalls Shipbuilding division will reactivate part of its shipbuilding facilities that was destroyed by Hurricane Katrina in 2005.
The site on the east bank of the
Pascagoula River
is the original Ingalls Shipbuilding Corp., founded in 1938. According to the shipbuilder, its reactivation will restore the facility's ability to support Ingalls' current ship construction and modernization programs as well as help the company better prepare for future work, including next-generation amphibious assault ships and surface combatants.
Work will begin immediately on the project, which is expected to require approximately two years to complete.
The project's primary component includes the addition of large, covered construction areas for construction of ship assemblies and components as well as the restoration of an outfitting pier.
"We are excited to be bringing the east bank back to life," said Ingalls Shipbuilding President,
Brian Cuccias
. "As we prepare to celebrate our 80th anniversary, what better way to do that than to announce that the original Ingalls facility will become a productive, vibrant part of the Pascagoula landscape once again."
George Jones, Ingalls' vice president for operations, said the shipyard will use proven concepts from its west bank modernization as a guide for the east bank reactivation.
"We have some of the best shipbuilders in the country, and they deserve the best shipyard in which to work," Jones said. "From more covered work areas and better environmental controls, to state-of-the-art tools and technology, Ingalls is leading the way in modern military ship design and construction."
"We are fortunate to operate in an area that supports shipbuilding and our military at the city, county and state levels," Cuccias said. "Together with the State of
Mississippi
, we are investing hundreds of millions of dollars to provide our shipbuilders the best tools and equipment and the safest, most efficient work environment possible in which to do the great work they do every single day. Our local leaders support shipbuilding with workforce training programs, economic development incentive policies and by providing good communities in which our employees are able to raise their families—in many cases the follow-on generations of shipbuilders at Ingalls. So when we determined we need additional facilities for our operations, it made perfect sense to do this expansion here in our hometown."