Regulators Green Light Freeport LNG to Return Ship Loading at Texas Plant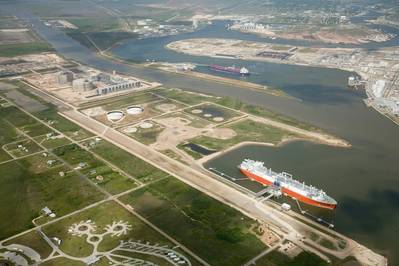 U.S. federal energy regulators on Thursday approved Freeport LNG's request to return ship loading to service at its long-idled Texas liquefied natural gas (LNG) export plant.
Freeport, the second biggest U.S. LNG export plant, shut after a fire in June 2022. The energy market expects gas prices to rise once the plant starts producing LNG again.
When operating at full power, Freeport can turn about 2.1 billion cubic feet (bcf) of gas into LNG each day. That is about 2% of total U.S. daily gas production.
Gas futures NGc1 prices gained about 3% on Thursday following the latest Freeport news, rising to $2.46 per million British thermal units after falling to a 25-month low in the prior session.
Many analysts do not expect Freeport to return to full power until mid-March or later. A couple of Freeport's customers - Japan's JERA and Osaka Gas - have said they do not expect to get LNG from the plant until after March.
Freeport was on track to receive about 69 million cubic feet per day (mmcfd) of pipeline gas on Thursday, according to Refinitiv data. Freeport has received an average of 34 mmcfd of feedgas since Jan. 26 when federal regulators approved the company's plan to start cooling parts of the plant.
Freeport has told state regulators that it would soon start sending gas to one of the plant's three liquefaction trains, which turn gas into LNG for export.
But the company - before Thursday's approval - was waiting for permission from regulators to start loading LNG on ships to free up space in its storage tanks.
In its filing on Thursday, the U.S. Federal Energy Regulatory Commission said this authorization to "return to service LNG Loop 1 circulation and dock 1 ship loading" does not grant authorization to place liquefaction trains or other remaining facilities back into service.
(Reuters - Reporting by Scott DiSavino; editing by Jonathan Oatis)