SPS Deck Reinstatement for Canadian Fishing Vessel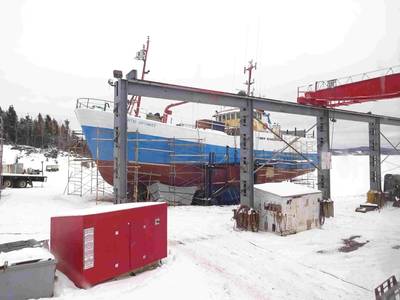 IE has repaired the deck of a Ueushuk Fisheries Ltd owned fixed gear vessel, the Atlantic Optimist. The existing steelwork on board the vessel was badly corroded, access tight and a crop-and-replace repair was an unattractive option.
When IE personnel arrived in
Canada
in mid-April, the 40msq of deck requiring steel reinstatement had already been grit blasted. Solid perimeter bars that form the boundary of the cavity and top plates were welded into place and the resulting cavity injected with the elastomer core to form the new composite deck (existing deck - 3/4" elastomer core - 1/4" steel top plate). The SPS deck reinstatement was substantially quicker than an equivalent conventional steel repair.
Captain Rex Simmonds, Ueushuk Fisheries Ltd commented, "Cutting out the deck and replacing it, would have delayed our fishing season and lost revenue. SPS was recommended to us and it was an excellent choice. The deck was completed four weeks faster and cheaper than if we had to cut out the old deck and put in a new one. IE's on-site project manager was very amenable and ensured we were on schedule, whilst management were excellent to deal with and very fair when it came to project administration."
He continued, "I like the fact that the new deck is much stronger because the old deck is still there with a new deck on top bonded by the elastomer core. I recommend this process to anyone who has to replace steel on board ships where the SPS system can be used."