Liner Reliability Slips for First Time in 6 Months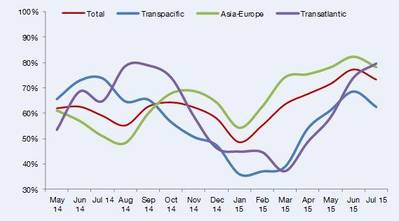 Breaking a run of six consecutive months of improvement, container service reliability across the three main East-West trades declined in July, falling by 4.0 percentage points from June to 73.3%, according to Carrier Performance Insight, the online schedule reliability tool provided by Drewry Supply Chain Advisors.

The latest overall monthly performance was the result of lower reliability scores in the Asia-Europe and Transpacific trades, although service punctuality for the far smaller Transatlantic route was raised to a new data series high.

The Asia-Europe trade slipped by 4.1 points but that was still enough to be the second best in our data series at 78.2%. Services in the Transpacific fell further back by 6.1 points to 62.5%, while the Transatlantic experienced a rise of 5.6 points to a new on-time performance record of 79.6%.

Despite the set-back in July, reliability remains well above the level it was at the same point in 2014 when the East-West trades' on-time average ratio was only 59.0%.

For the first time, we are able to report that a different carrier other than Maersk Line topped the monthly rankings as MOL had the best on-time performance in July of 80.1%. MOL's reliability ratio was actually slightly lower than for June but it was sufficient to push Maersk down into second place as the Danish carrier fell back by 5.0 percentage points to 79.8%.

There was more evidence of bunching between carriers as all bar the worst four carriers were within about 12 points of the leaders. The least reliable carriers in July were Wan Hai (57.0%) and PIL (56.6%).

Drewry expects to see an improvement in reliability in the Asia-Europe trade in the near future as a consequence of the expanded Suez Canal, which is expected to reduce convoy transits down from 18 to 11 hours, while waiting times will be no more than three hours instead of 8-11 hours as they are at present.

"Suez being turned into a two-lane maritime highway, from what could have been described as a congested single country lane, will not only improve capacity, but will also speed transit times and reduce delays. This can only be good for operational efficiency," said Simon Heaney, senior manager of supply chain research at Drewry.

Building on Drewry's long established schedule reliability benchmarking that started back in 2005; the new Carrier Performance Insight provides the ability to benchmark the reliability performance of container carriers on a port-to-port, trade lane, service and industry-wide basis. This information is available via a user-friendly website powered by data from global shipment management software solutions provider CargoSmart.