World's Largest Cargo Ships Do IT Remotely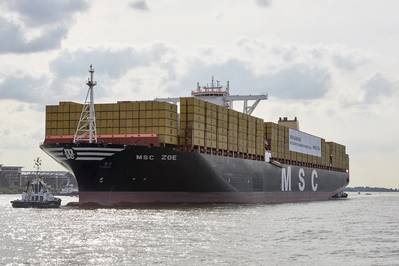 With Mediterranean Shipping Company (MSC) Zoe's inaugural voyage completed this summer, the largest containership ever built is now operating with high-speed Marlink Maritime VSAT (Very Small Aperture Terminal) on board.
Marlink VSAT services provide connectivity for operational and
crew communications
on MSC Zoe and 130 other MSC ships. MSC is also saving time and money with a suite of integrated IT solutions designed to reduce network administration on board and provide easy access to communication services for crew, all enabled by the XChange communications management platform from Marlink.
Recently added to MSC Zoe's
communications solutions
and being rolled-out across the MSC fleet is XChange Universal Remote Access (URA), a system that provides secure remote access to computers on board from the shore office. MSC is already experiencing higher uptime for IT systems across the fleet due to the improved remote maintenance and troubleshooting capabilities provided by URA. The system differs from standard remote access solutions, which are designed for specific terminals or protocols and require their own IP address. Since it is a universal access solution, MSC can use the same tool to access IT systems on MSC Zoe, its largest ship, as on any other ship regardless of age or type across its entire fleet.
XChange as standard also provides communication lines for MSC crews to easily stay in contact with their families and friends via email, internet and social media, while giving full control of access and costs to administrators on shore. For MSC, this functionality has been extended by XChange BYOD (Bring Your Own Device), a ready-to-use Wi-Fi solution and accompanying apps that provide voice and data access for crew using their own smartphones, tablets or laptops.
By ensuring straightforward account administration and streamlining payment using pre-paid cards, XChange BYOD helps MSC to meet the requirement of its maritime professionals to access the Internet via Wi-Fi using their own devices.
"Remote access and administration is key to our delivery not only for MSC Zoe, but for the entire MSC fleet," said Tore Morten Olsen, CEO, Marlink. "The XChange system enables more efficient use of MSC's VSAT services, as well as a reduction in operational cost because a vessel's IT and admin is cost-effectively outsourced to shore. MSC's Fleet Managers are using XChange's remote admin capabilities and the BYOD solution to create and manage user groups, accounts and credits, making high quality crew communication much more efficient and cost effective. Likewise, with full management of all IT configurations done remotely from shore using URA, MSC is experiencing significant cost and time reductions for network management across its fleet."