Rapp Hydema Winches for USGS Research Vessels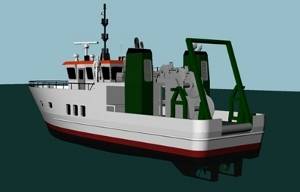 Great Lakes Shipyard this month awarded Rapp Hydema NW the deck machinery packages for two U.S. Geological Survey research vessels now under construction. Rapp's award includes a pair of trawl winches, a centerline winch, side-sampling winches port and starboard, and a dual net reel, for each vessel. Rapp will be providing its state-of-the art PTS Pentagon Canbus system for winch control and monitoring, as well a Rapp Syd gillnet lifter for each boat. The centerline and side-sampling winches will be slip-ring capable.

Joe Starck, President of Great Lakes Shipyard, said that he had been aware of Rapp machinery aboard the R/V Spencer Baird, a Michigan Department of Fish and Wildlife vessel. It also works the Great Lakes region and undertakes quite similar missions, including lake trout surveys.

"While some of the operating assumptions are different here, there are enough commonalities that we felt Rapp was the right choice. And we had learned of Rapp's recent UNOLS and NOAA work, so we felt comfortable with the selection," he said.

The two vessels will be involved in Great Lakes surveys of lake trout and performing other deep-water research in which active trawling will be characteristic. Rapp will be delivering the machinery in April-May 2011.