'Titanic' Buffs, Researchers – Newspaper Archive Published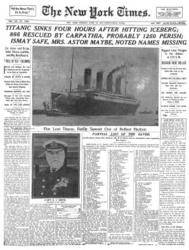 PaperlessArchives.com publishes 1,200 selected complete American newspaper pages, dating from April 1, 1912 to April 14, 1922, covering the sinking of the 'Titanic' and its aftermath
The sinking of the Titanic was the first international news story of the twentieth century to receive instantaneous, intensive coverage world-wide.
American newspapers had an advantage over the British press, since survivors of the Titanic were brought to New York City. American newspapers had reporters in place when the first inquiry into the disaster was held by the U.S. Senate at the Waldorf-Astoria Hotel in New York City, the day after the survivors landed.
Though not an uncommon mistake, the London Daily Mail ran the unfortunate headline on April 16, 1912, "Titanic Sunk. No Lives Lost. Collision with an Iceberg. Largest Ship in the World. 2,358 Lives in Peril. Rush of Liners to the Rescue. All Passengers Taken Off." Compare this to the New York Herald April 15, 1912 headline, "The Titanic Sinks with 1,800 on Board; Only 675, Mostly Woman and Children, Saved"
Newspapers fed the public interest in the Titanic disaster by publishing sensational banner headlines, reports, stories, special sections, photographs, and editorials. This collection shows the result of different efforts to balance the need to sell newspapers and the reporting of accurate information.
The newspaper articles cover details that are still in dispute today, such as the controversy over what the Titanic band was playing as the ship sank, some say it was the hymn "Autumn", and others say it was "Nearer My God to Thee." Accounts differ as to the last moments of Captain Smith. Press coverage established 100-year commonly accepted anecdotes such as Mrs. Strauss giving up her seat in a lifeboat in order to remain with her husband on the doomed ship; And Bruce Ismay's alleged cowardice, climbing aboard a lifeboat though women and children were waiting for places.
A complete description of the newspaper archive is available here.