New Oil Spill Response Base Opens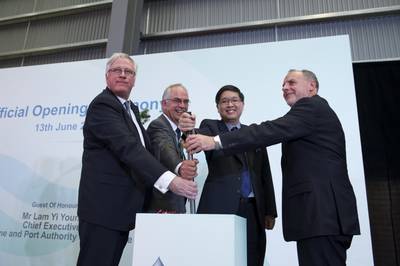 Oil Spill Response Limited (OSRL), the global oil spill response cooperative funded by more than 160 environmentally responsible oil and energy companies, announces the opening of a new base with enhanced response capabilities at Loyang in Singapore.

The opening of the base in the Asia Pacific region brings together personnel and equipment resources in a single place so as to deliver an integrated, swift and effective response to an emergency oil spill incident.

In addition, regional response capability sited at the base has been boosted by the recent arrival of advanced subsea well capping equipment known as a capping stack which can be mobilized throughout the Asia Pacific region in the event of a subsea well control incident.

Investing in the base and resources sited at Loyang reflects OSRL's commitment to improving its response capability and expertise so as to deliver an industry-leading service to its members, customers and stakeholders.

Located within a dedicated oil and gas supply facility with wharf access and in proximity to key airports, the new base is strategically placed for OSRL to mount an emergency response either by air or sea, thereby offering a range of viable response delivery options during an emergency spill incident.

In addition to its strategic location, its expanded size of 9,500 square meters comprises a storage area for response equipment and dispersant, a dedicated warehouse for subsea well intervention equipment, a state-of-the-art Emergency Operations Centre, an in-house training facility and office space for 100 staff.

The new OSRL base is close to Seletar Airport where OSRL's Hercules C-130 aircraft is based permanently for wide-area high-volume aerial dispersant spraying operations in the event of a spill. It is also very near Changi Airport which is home to an array of sophisticated air logistics services. OSRL has access to a wharf facility with a water draft of 10 metres at the Loyang Base, providing direct deepwater access for OSRL's response catamarans and other transportation vessels required to mobilise the subsea well intervention equipment.

OSRL's integrated subsea well intervention system includes four capping stacks to shut in an 'out of control' subsea well, plus two hardware kits to clear debris and apply subsea dispersant at the wellhead. It is suitable for the majority of known subsea wells in the Southeast Asia and Australasia region and can be deployed in water depths up to 3,000 meters.