P3 Network Restructures the Shipping World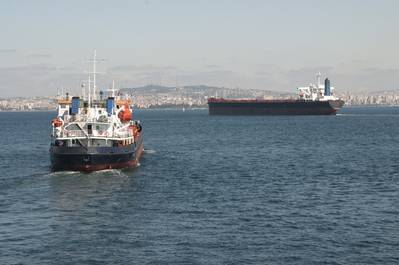 The P3 agreement between Maersk, MSC, and CGM CMA continues to roil the waters. While the agreement's pros-and cons are about to be scrutinized in an upcoming meeting between America's Federal Maritime Commission, the European Competition Commission, and China's Ministry of Transport, carriers outside the P3 are aggressively taking steps to stay competitive regardless of the regulators final decision.

The P3′s strategy of the ultra-large container carriers advanced operational cooperation is good enough to make the non-P3 ocean carriers feel threatened; most of the other major carriers are trying to team up in alliances of their own and in the last two weeks, the following alliances and new operational agreements have been announced:
Hapag-Lloyd and CSAV announced 5 December they have been holding discussions on the possibility of merger or some other form of co-operation. The two lines are said to be completely open in terms of what sort of co-operation or merger they are seeking. A merger between Hapag-Lloyd and CASV would compete for the rank of the world's fourth largest container line.
Several weeks ago the G6 (Hapag-Lloyd, OOCL, NYK, APL, Hyundai Merchant Marine, MOL) announced they would compete with the P3 Network by expanding their operations to service all the east-west container trade lanes. They plan to deploy 76 ships across 12 services and connect 27 Asian ports to US west coast ports, and operate an additional 42 ships across five transatlantic loops servicing the US east coast and west coasts, Canada, Panama, Mexico and north Europe, which will include two pendulum services.
Several weeks ago Yang Ming (YM), United Arab Shipping Company (UASC) and China Shipping Container Liner (CSCL) announced they would merge their Asia-West Coast North America services.

Only Zim Line and Cosco remain unaligned, however Zim announced this week that it was 'holding discussions' with the G6 in order to expand its current Asia-US east coast co-operative service to the US west coast.

If regulators give the green light to the P3, then the other mega-alliances will also pass scrutiny and by 2nd-half 2014 some 500 9,400+ TEU vessels would be deployed across east-west trade lanes with per-TEU cost efficiencies any independent un-aligned carriers will be unable to match.

It seems the result of falling rates amidst shipper-led allegation of rate manipulation has been the world's shipping lines consolidating into three large associations – this surely is not the result the shippers were expecting to see.
The Status of the P3 Alliance

Announced in June 2013 in order to use their combined operational efficiency to cut costs in a long-term solution to an independent-led rate war (Zim's extremely aggressive 3rd Q 2013 average freight rate per TEU was $1,202, some $274 / TEU below G6 member Hapag-Lloyd during the same period), both shipper organizations and unions requested governmental intervention to halt it because they believe the goal of the P3 is to drive the other lines out of business so they can raise rates.

The International Longshoremen's Association (ILA), one of the most prominent American dockworkers' unions has voiced its opposition because it represented "an unprecedented risk of anti-competitive practices".

ILA president Harold Daggett wrote to the FMC in November asking it to block the P3 in America claiming that a vessel-sharing alliance controlling 27.1% of all loaded US containers would both distort competition between box carriers, but would also have a significant effect on other parties in the container supply chain.

Dagget wrote, "I believe there exists a great danger that the P3 carriers could use the agreement in such a manner so as to squeeze out competitors and, eventually, non-carrier entities such as shippers and terminal operators…Perhaps the most apparent effect of the P3's drive towards increased capacity is that other small carriers will simply be forced out of the market."

Although the Journal of Commerce reported the majority of public comments sent to the FMC regarding the proposed P3 Network were supportive of the alliance, the London-based Global Shippers Forum (GSF) also called on the FMC to give the proposal "very careful scrutiny". GSF general secretary Chris Welsh said: "Our initial assessment raises concerns about how the P3 partners can compete, because of the "commonality of costs", which gives strong grounds for assuming common pricing. The more the costs are common, the greater the need for the P3 partners to demonstrate how they are going to compete on price."

The P3 must obtain approvals from the American, EU, and Chinese regulators before operations begin in 2nd Quarter 2014. The FMC is expected to focus on two key words – "unreasonable" and "likely" – as it decides whether to allow or block the proposed alliance of the three largest global container lines. To underscore the global impact the P3 may have on international trade, regulators from the three regions are meeting in Washington, D.C. on December 17 to discuss it.

The first official response on the P3 will come from the FMC; they operate on a strict time-table, while the EU's investigations take years; to-date they're two years with no end in sight into their investigation of alleged rate collusion against fourteen carriers.
The P3 has changed the Industry

So if Dagget is correct, and the FMC rules that an alliance controlling a 27% market share is too large and will stifle competition, is a 25% market share acceptable? Alternatively, is 20%? Neither Dagget nor the GSF address this question, nor provide any answers to the question of what they think will happen to rates if Zim or a few of the other rate-cutters file for bankruptcy and disappear.

The P3 has changed the shipping world, whether or not it is allowed to launch in March-April as planned. If the P3 is rejected, then what will happen to the G6′s new arrangement, or the other recent announcements? It is difficult to predict how regulators will react. Another unintended consequence is that if the P3 is rejected, could the P3 companies then object to Zim's proposal to expand its US access via the G6; if they did, this would surely hasten Zim's sail towards bankruptcy, which would serve to remove Zim's aggressive rates from the marketplace. This is not what the GSF hopes to accomplish.

The FMC may agree these agreements are designed to increase operational efficiency and reduce costs, or they may rule Zim's move is designed to restrict competition and is evidence of a cartel. Either way, the P3′s effect on the shipping world is irreversible.

Patrik Berglund is one of the Co-founders of Xeneta, container shipping software that helps business get actionable data on their shipping rates and transit times.

xeneta.com