Crowley's Ed Schlueter Announces Retirement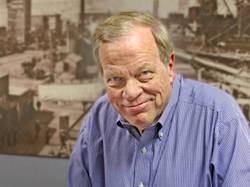 Ed Schlueter will retire on December 31, 2011, after 35 years with Crowley. He started with the company as a Port Engineer (Hull) in Seattle and is currently Vice President, Vessel Management Services, Inc. (VMSI). Over the years, Ed has held numerous positions, including Engineering Project Manager, Manager of Engineering, and Director of Engineering. He has lived in Seattle, Jacksonville, Copenhagen and California. Ed has been involved with and overseen the delivery of nearly 70 new building projects at Crowley. Some of those projects have included the Sea Wolf class container ships, the 455-series deck barges, the three classes of ATBs, the Ocean Class tugs, and all five classes of tractor tugs. Ed will continue to support Crowley after his retirement as a consultant and oversee any new construction projects outside the US, and he wil be available as a resource for the current new building and other engineering related projects.

"On behalf of the entire Crowley organization I want to thank and congratulate Ed for his service and numerous contributions to the company," said Tom Crowley, chairman, president and CEO. "Under his leadership we have deployed some of the finest, most technologically advanced and environmentally friendly vessels in the industry. While we will miss him, we wish him well as he begins this new chapter in his life."