Alexis Marine To Retrofit Rivertough to Salt Lugger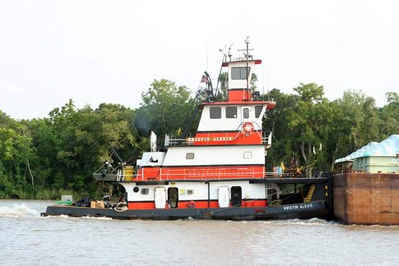 Louisiana-based inland workboat operator Alexis Marine has awarded a supply contract to Thordon Bearings for the retrofitting of 6in diameter RiverTough bearings to MV Kristin Alexis, the 60ft twin-screw towboat built by Bollinger Shipyard in 1969.
Both the vessel's shafts will be withdrawn at New Orleans yard Bayou Fabricators and Machine Works, where the original rubber bearings will be replaced with Thordon's RiverTough tailshaft bearings.
The polymer bearing manufacturer will also supply hard-wearing NiCrB sleeves to reduce the impact of operations in abrasive waters on the shafts.
"It is not our first experience with RiverTough; the bearings have provided trouble-free operation for our fleet of tow/push boats for several years. We have had a very good experience with all of the installations," said Mike Alexis, CEO and founder, Alexis Marine. "Due to the harsh waters in which these shallow draught vessels operate, we found that with the original rubber bearings, we were drydocking once, sometimes twice a year. We have not had that problem with the Thordon system. Combined with the hard coated sleeves, there has been no sign of wear."
Scott Groves, Regional Manager Americas, Thordon Bearings, said, "The U.S. workboat sector is undoubtedly an important market for Thordon Bearings and an order like this from a returning customer is indicative of the commercial, operational and technical advantages our polymer bearings have over traditional rubber bearing types."
Jim Bright, Business Development Manager-USA, Thordon Bearings, said, "We expect the conversion next month will be a smooth process. Bayou has a lot of experience with Thordon products and has installed RiverTough to a number of workboats, as retrofit and newbuild solutions."