Robbers Pull Off Multimillion-dollar Copper Heist in Chilean Port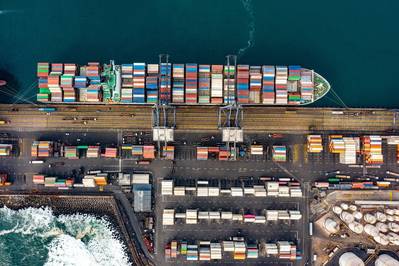 Chilean authorities said on Wednesday they were investigating a violent heist in Chile's main seaport where thieves stole several shipping containers filled with copper belonging to state-owned giant Codelco.
Juan Carlos Catalan, the local prosecutor, said in a statement that ten armed men entered the San Antonio port early on Tuesday morning, attacked workers and stole 13 containers, 12 of which had copper.
"There was one guard and four workers that (the assailants)tied up and beat and left locked up," Catalan said, adding that workers alerted authorities after they freed themselves.
Catalan said authorities are investigating and reviewing security footage but have not detained any suspects.
In a statement to Reuters, Codelco said the copper was scheduled to be exported and was insured. Citing police sources, local media reported the copper plates were worth an estimated $4.4 million.
The heist is the largest copper theft since a spate of gangster heists in northern Chile last October forced the government to tighten security on trains carrying copper cathodes.
The violent robbery adds pressure over shipment security in the world's largest copper producer. Mining companies in Chile have repeatedly complained about copper thefts by specialized gangs.
Authorities blamed the train heists on international crime groups while police said Wednesday's heist could be a local group.
"It is a gang that may be working in San Antonio because we have other crimes with similar characteristics," local police captain Gonzalo Garcia told Radio Cooperativa, adding that it was a well-planned heist that involved multiple trucks.
"They cut off the security cameras and once the cameras were cut off, the other part of the gang went in to intimidate the guards and the workers."
(Reuters - Reporting by Natalia Ramos and Alexander Villegas; Editing by Leslie Adler and Josie Kao)