China Rongsheng Delivers First Container Ship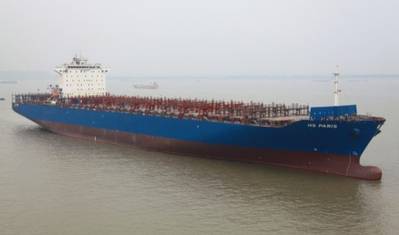 China Rongsheng Heavy Industries Group Holdings deliver their first container ship to a German owner.

The new 6,500-TEU container ship measures 299.95 meters in length, 40 meters in breadth and 24.2 meters in depth. This latest delivery not only demonstrates a breakthrough of manufacturing capability at China Rongsheng Heavy Industries, but they say it also marked their comprehensive strengths in research and development and product diversity.

Rongsheng believe that business upgrade and R&D capability are always development keys in the shipbuilding industry. In facing ongoing challenges in shipbuilding, China Rongsheng Heavy Industries keeps proactively adjusting their marketing strategy and design.

To this end, adding to its success in offshore engineering, dry bulker and tanker market, Rongsheng now also targets high-value-added containership construction, offering green design as one of its key features.

The group has already developed container ship designs with capacities of 4,250-TEU, 5,100-TEU and 7,000-TEU, and they consider that their efforts in improving product diversity and design flexibility will be of considerable advantage to them in the future.