Ruby Princess Crew Begins Debarking in Australia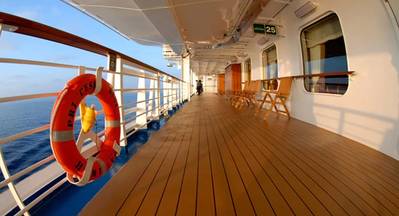 The first group of Ruby Princess crew members has debarked the coronavirus-hit cruise ship in Sydney, Australia and began the process of repatriation to their home countries Tuesday, authorities said.
At least 49 crew members from six countries disembarked the Carnival Corp owned cruise ship on Tuesday, and a further 115 crew members from nine countries disembarked on Wednesday.
So far, 22 of the disembarked crew members have tested positive for COVID-19 and have been transported to NSW Health-managed hotels to be cared for in isolation until they can be medically cleared and flown back to their country of origin. Eleven crew members had been evacuated previously after more than 100 crew tested positive for coronavirus on board.
Crew members who have tested negative for COVID-19 were taken to either Sydney International Airport or a Sydney hotel, where they will await flights to their home countries, which include Brazil, France, Germany, Republic of North Macedonia, Mexico, Poland, Romania, Serbia and Ukraine.
More from the ship's 1,000-plus crew are expected to disembark from the Ruby Princess Thursday, before the ship leaves Australian waters, but a significant number will remain on board and return with the ship to its port of origin.
"Today's operation is the culmination of a significant joint effort by a number of agencies, and that effort will continue until we have ensured the safety and movement of every crew member, in line with their wishes," said NSW Police Force Commissioner Mick Fuller.
"The health of those on board and protecting the people of NSW always has been – and will continue to be – our number one priority.
"The movement of the first crew contingent today is an important milestone, and has us one step closer to the Ruby Princess leaving Australian waters."
The Ruby Princess sparked public anger in Australia and became the target of a criminal investigation after authorities granted the ship permission to disembark its 2,700 passengers in mid-March without health checks. Hundreds of the passengers later tested positive for the coronavirus and 15 have died.
Investigations under Strike Force Bast surrounding the docking and disembarking of the Ruby Princess at Sydney Harbor on March 19 are continuing. Carnival is cooperating with the probe.
Ruby Princes' operator, Carnival-owned Princess Cruises, has been among cruise lines hardest hit by the coronavirus pandemic and has canceled all voyages through June 30 after initially suspending operations from March 12 to to May 10.