Russian-builit Warship Handed Over to Indian Navy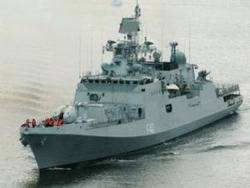 Yantar Shipyard in Kalingrad handed over first of three frigates to the Indian Navy
Official handover ceremony of the first of three Project 11356 frigates was held recently at Yantar Shipyard (affiliate of United Shipbuilding Corporation, USC) in Kaliningrad. The up-to-date ship built for Indian Navy under name of INS Teg was developed by Severnoye Design Bureau.According to the contract, Yantar Shipyard are to build three frigates of this project for Indian Navy. Experts say Project 11356 is one of the most effective in its class.
JSC United Shipbuilding Corporation is Russia's largest shipbuilding company. It was established by presidential decree in 2007; 100% of its shares are in federal ownership.
The holding comprises over 50 companies and organizations in the shipbuilding industry (largest shipyards and ship-repair plants, leading design bureaus). Presently, the corporation consolidates about 70% of national shipbuilding sector. Although the company is oriented on Russian market, it exports production to 20 countries.
Project 11356 frigates (escort ship) is designed for naval operations in sea and ocean zones against enemy's surface ships and submarines, repelling air attacks both independently and within a task force.