Russian-buit Research Ship Antarctic Ready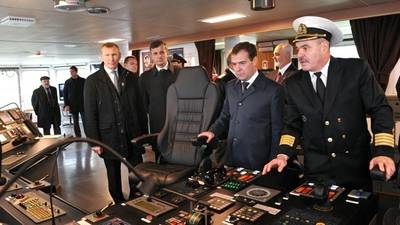 Research ship 'Akademik Tryoshnikov' built by Admiralty Shipyards will be employed in the service of Russian Antarctic stations.

The Akademik Tryoshnikov is the first research vessel in the last 20 years built by the Admiralty Shipyards to order by Roshydromet. It will be used to resume annual maintenance of the Bellingshausen Station in the Russian Antarctic, and to reopen the Russkaya Station, which was closed in 1989. This station is the only location in the world where researchers can monitor various natural processes occurring across the space of several thousand kilometers. It also plays an important role in supporting the GLONASS system.

In his speech at the Admiralty Shipyard Prime Minister Dmitry Medvedev said:

"Today marks a long-awaited landmark for our shipbuilding industry and our country: the first Russian-built research ship, the Akademik Tryoshnikov, is almost ready to sail. A large amount of money – 6 billion roubles – was spent to design and build it.
The ship has the state-of-the-art equipment that will be used to effectively carry out the tasks assigned to it. It has a displacement of 17,000 tonnes and is about 134 metres long. As far as I understand, it can carry 60 crew members and 80 members of the Russian Antarctic Expedition. It has labs for oceanographic research, atmospheric and ice studies and other research activities.

The ship will play a leading role in the new transport scheme of the Russian Antarctic Expedition. The research will expand to the South Pole region, including the Pacific sector of the Antarctic. The vessel will also be used to deliver supplies to Russia's Bellingshausen Station in the Antarctic. I'm not sure if we are quite ready for this now, but as I understand there are plans to reopen the Russkaya Station that was shut down in 1989. This is important."