Sailor Under Investigation for Arson in USS Bonhomme Richard Fire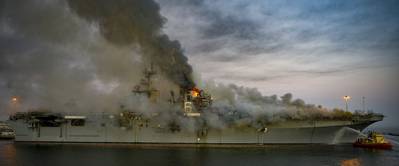 A sailor is being investigated for arson in connection to the fire that raged for four days aboard the warship USS Bonhomme Richard in July, multiple sources report, citing anonymous U.S. Navy officials.
Naval investigators are focused on one sailor from the ship, an official said, adding no motive has been determined and no one has been charged, according to the New York Times.
"The Navy will not comment on an ongoing investigation to protect the integrity of the investigative process and all those involved," Lt. Tim Pietrack, a Navy spokesperson, told the newspaper. "We have nothing to announce at this time."
The blaze broke out July 12 in a lower cargo hold of the 844-foot-long Wasp-class amphibious assault ship and spread upward throughout much of the vessel, which was docked at its home port in San Diego for a maintenance availability that began in 2018.
There were no fatalities, but dozens of military and civilian firefighters were treated for injuries including smoke inhalation and heat exhaustion.
The vessel took on a list but remained stable, though extensive damage has left the ship inoperative and its fate uncertain as the Navy decides whether to repair the costly warship.
"The ship can be repaired. Whether or not it will be repaired will be determined," Rear Adm. Philip Sobeck, Commander of U.S. Navy Expeditionary Strike Group 3, said during a press conference last month.
The National Steel and Shipbuilding Company (NASSCO) shipyard in San Diego has been awarded a $10 million contract for cleanup efforts aboard the fire-stricken USS Bonhomme Richard (LHD 6).