Navy Sails into 21st New York Fleet Week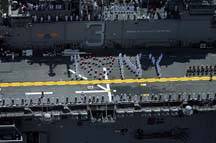 The 21st Fleet Week celebration in began May 21, with the traditional Parade of Ships.The five U.S. Navy ships participating in the Fleet Week commemoration are the amphibious assault ship USS Kearsarge (LHD 3), guided-missile cruisers USS Leyte Gulf (CG 55) and USS Monterey (CG 61), and the guided-missile destroyers USS The Sullivans (DDG 68) and USS Nitze (DDG 94). Kearsarge and Leyte Gulf arrived in at Pier 88 and 90 respectively, and , Nitze and The Sullivans moored at the Stapleton Piers on .
A U.S. Coast Guard cutter and three Canadian navy vessels joined the U.S. Navy ships at the Parade of Ships and will also be participating in Fleet Week events.
Hosted nearly every year since 1984, Fleet Week New York is the city's celebration of the sea services. This event also provides an opportunity for the citizens of New York City and the surrounding rri-state area to meet Sailors, Marines and Coast Guardsmen, as well as see, first-hand, the latest capabilities of today's maritime services.
"I'm looking forward to seeing what the Navy does," said Michael Padovano, a native and father of an embarked Marine aboard Kearsarge. "I can't wait to hug my son, but I'm also curious to see the ship and see how the crew lives. I never had the privilege to serve, so I'm very interested."
While in , nearly 4,000 Sailors, Marines and Coast Guardsmen will participate in Memorial Day parades in all five boroughs; volunteer with local community outreach organizations; and experience the sights, sounds and hospitality of .
"It's great to be back in for Fleet Week," said Vice Adm. Evan M. Chanik, Jr., director, Combined Joint Operations from the Sea Center of Excellence for Second Fleet. "This is a great opportunity for the sea services to show the great citizens of their Navy, their Marine Corps and their Coast Guard, and allow them the opportunity to meet the great people who provide a wonderful service to our country."
Public visitations of the U.S. Navy ships will commence May 22 and conclude May 27. Additionally, there will be a number of exhibits showing off the technology of our maritime services and the skilled expertise of service members.