Hi-tech Goggles Help Divers Locate Sandy-downed Structures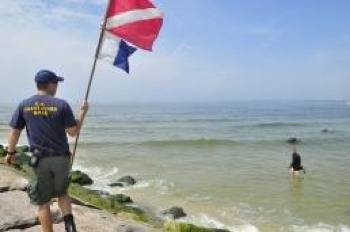 During an intense two-day period, Coast Guard diving teams recover downed light towers from East Rockaway Inlet and Jones Beach Inlet. Both lights were destroyed during Hurricane Sandy.

The divers used the Dual-Frequency Identification Sonar Diver Held unit, a handheld sonar device connected to a pair of goggles that attach to the diver's face mask. The unit produces a 3D image with a range of up to 100 feet underwater in zero visibility conditions. This unit increased efficiency and productivity by using less time and manpower while performing this search and recovery mission.
At close to the eight month anniversary of the landfall of Hurricane Sandy, the recovery process has been long for military members and civilians alike, but the U.S. Coast Guard continues to make profound progress in and around the East Coast waterways.
Through significant team efforts, important landmarks are being recovered and waterways are being cleared of debris that remain from the storm.

Coast Guard RDLE divers are expertly-trained, highly-motivated professionals supporting operations from the Arctic to surveys of coral reefs off of Puerto Rico and the U.S. Virgin Islands.
"Without the hard work between the RDLE, ANT Moriches and Station Jones Beach, this mission never could have been completed," said Coast Guard Chief Petty Officer Jeffrey Smith, the officer in charge at ANT Moriches. "As proud stewards of the environment, the Coast Guard remains always ready, keeping the waterways clear and providing marine safety."