Sanmar Wins Tug Order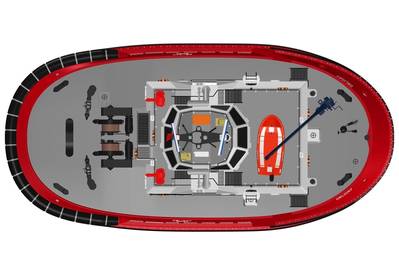 Tug boat builder and a tug boat manufacturer Sanmar Shipyards has been awarded contract for true tractor configuration tug with forward mounted thrusters by Rimorchiatori Riuniti in Italy.

"This will be sixth example of the Turkish specialist tug builder's, exclusive Delicay design in barely a year since the first vessel of this type was delivered to New Zealand," said a press note.

Designed by Robert Allan Ltd of Vancouver, Canada, it is designated theTRAktor 2500-Z SX, it said.

Having a 70 tonne bollard pull from a twin Caterpillar/Rolls-Royce diesel engine and azimuthing Z-drive thruster combination, this latest 25.30m x 12m vessel is to Italian Flag Rules and to the owner's particular requirements making it a rather special vessel.

It has a much modified deck machinery specification to meet the operator's strict redundancy conditions, the inclusion of recovered oil tanks and keel cooling. It also has a full FiFi1 external fire-fighting system driven by a dedicated diesel and to comply with Italian Flag Rules, it is outfitted with a SOLAS crane and a rescue boat on the forward deck.

Ali Gürün, Project Director at Sanmar said: "The brief we gave Robert Allan Ltd, the premier designer for our ever widening portfolio, was for a compact true tractor tug having forward mounted Z-drives, to give maximum efficiency in both ship-handling and towing duties. We worked closely together to produce this Delicay Series which has the benefit of being able to be customised to suit an operator's individual operational and geographical requirements. But this tug is the ultimate in the field of customisation that it virtually becomes a different model."

Part of the success of this new series is the careful attention given to sound and vibration proofing the accommodation areas, especially over the thruster room. "The fact that we are both a tug builder and fleet operator has taught us the importance of crew comfort," he continued."

The hull and underwater appendage options for the Delicay Series have been extensively model tested at the Vienna Model Basin and analysed at Robert Allan Ltd using computational fluid dynamics (CFD) to obtain an optimal balance between controllability, manoeuvrability, fuel efficiency, and roll dampening.

This is the third tug of different types but similar dimensions supplied by Sanmar to Rimorchiatori Riuniti. Its immediate predecessor with the same bollard pull was equipped with the same engines, thrusters and generators as well as using the same winch supplier for reasons of standardisation.