Schat-Harding 370-Person Lifeboats to Cruise Ship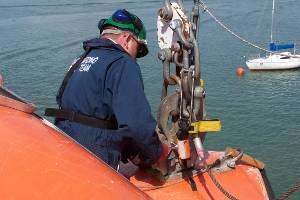 Lifeboat and davit manufacturer Schat-Harding has delivered the world's largest lifeboats, complete with unique davit systems, to the Royal Caribbean International's Oasis of the Seas.

The Oasis of the Seas is equipped with eighteen of Schat-Harding's unique, 370-person CRV55 lifeboats and LS45 davit systems. The CRV55 has a catamaran hull, which provides excellent sea-keeping capability and maneuverability. The LS45 davit, meanwhile, is a completely new integrated system for cruise vessels. The lifeboats are lowered directly from the stowed position, so that no outswing is needed, and the entire boat is positioned outside the hull of the ship. The CRV55 is of reinforced construction and has a special "green sea" lashing system, making it secure in high waves.

Ole Meijer, executive vice-president of Schat-Harding's equipment division, said "These revolutionary boats and davits have been specially designed for the RCCL Genesis project ships which are being built at STX Europe (formerly Aker Yards). We have worked in close co-operation with STX, RCCL, Germanischer Lloyd and DnV to find a way to improve the safe evacuation of the 8,000-plus passengers and crew who will be sailing on these ships. These new boats will be safer and quicker to board for large numbers of people. They will also be easier to get away from the ship, because the davit does not have to move, and they will be safer once in the sea as they have twin engines and full built-in buoyancy. They fully meet all SOLAS requirements."

The CRV55 boat is 16.7 m long and 5.6 m wide. Built from Fibreglass Reinforced Polyester using a vacuum technique, the boat weighs 16 tonnes in its stowed condition and 44 tonnes when fully loaded. Two 70 HP diesel engines give the boat a speed of 6 knots, and the catamaran hull and twin rudders provide excellent manoeuvrability.

Describing the design of the boat and davit system, Meijer said "This is the nearest you can get to a 'pull and go' system. The boat will hang from two quick release hooks which are simple to operate and which have clear visual indication of both locked and unlocked status. Lashing and bowsing are integrated and embarkation is at the stowed position through four color-coded doors leading to ergonomically-planned color-coded seating areas arranged on two levels. The winches are designed with a retraction system to lift the lowering block free from the boat canopy and a retardation function to reduce forces on the davit, winch and lifeboat hook when stopping.

"Speed of boarding, comfort on board, simplicity of operation and maintenance and a high degree of safety have been designed into the system. These boats mark a step change in the safe evacuation of large ships. I believe this is the first of a whole new generation of very large and very safe lifeboats."