Griswold Awarded Webb, ABS Scholarship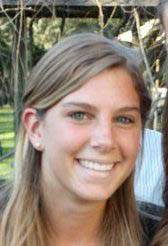 Webb Institute awards second ABS scholarship for 2012 for studies in naval architecture and marine engineering.
Webb Institute, a four-year college specializing in Naval Architecture and Marine Engineering, has recognized the second ABS Scholar for 2012. The ABS Scholarship Program provides financial support to deserving engineering and naval architecture students based on GPA, class rank, leadership ability, faculty recommendations and service to Webb Institute.

Dean Richard P. Neilson announced the $50,000 scholarship on November 10, 2012, to Samantha Griswold '14, at the Fall Board of Trustees meeting hosted on the campus of Webb Institute in Glen Cove. In addition to her outstanding academic standing, Samantha, a junior, is President of the Junior Class, Chair of the School Merchandise Store, and has participated on Webb's Sailing Team.

Samantha's recognition follows that of Jonathan J. Soja, who in May of this year was named the recipient of the first ABS Scholarship for 2012.

"Webb Institute is honored to have two ABS Scholars as part of their ongoing support of our students," stated the President of Webb Institute, RADM Robert C. Olsen, Jr USCG (Ret.) "Through this scholarship program and the support of the ABS Chair of Naval Architecture and Marine Engineering, ABS will continue to serve as a catalyst for advancing educational programs in the maritime industry."

ABS has had a longstanding commitment to education. "We are proud of our partnership with Webb Institute, and we fully believe in its mission of preparing graduates for maritime careers," said ABS President and CEO Christopher J. Wiernicki, a member of Webb Institute's Board of Trustees. "Our support of the next generation of maritime professionals is a critical part of ABS's mission to protect the safety of life, property and the natural environment. We are pleased to be able to continue our support of Webb Institute and wish the scholarship winners success in their careers."

"Webb Institute is very grateful for these very generous scholarship awards and hopes to continue the exceptional longstanding relationship with ABS, helping to prepare new generations of graduates entering into the marine and offshore industries," Olsen said.