Sea Machines to Demo Autonomy for MarAd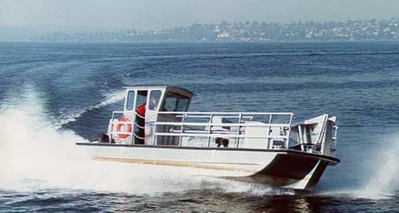 Sea Machines Robotics has been a progressive leader in advancing autonomy in the maritime space, and today it announced a deal with the U.S. Department of Transportation's Maritime Administration (MarAd) to demonstrate the value of Sea Machines' autonomous technology in marine oil-spill response ops.
The scope of the deal has Sea Machines installing its SM300 autonomous-command system aboard a Marine Spill Response Corp. (MSRC)-owned MARCO skimming vessel and will train MSRC personnel to operate the system. Then, on August 21, Sea Machines and MSRC will execute simulated oil-spill recovery exercises in the harbor of Portland, Maine, before an audience of government, naval, international, environmental and industry partners.
The response skimming vessel is manufactured by Kvichak Marine Industries, of Seattle, and is equipped with a MARCO filter belt skimmer to recover oil from the surface of the water. This vessel typically operates in coastal or near-shore areas. The SM300 is designed to give the MSRC vessel:
• Remote autonomous control from an onshore location or secondary vessel,
• ENC-based mission planning,
• Autonomous waypoint tracking,
• Autonomous grid line tracking,
• Collaborative autonomy for multi-vessel operations,
• Wireless remote payload control to deploy onboard boom and other response equipment, and
• Obstacle detection and collision avoidance.