CMA CGM Extends Black Sea/North Europe Service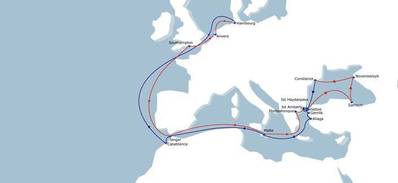 The CMA CGM Group announced the extension of its FEMEX service on the North Europe – Mediterranean trade. In order to improve the coverage of the North Europe – Mediterranean trade and coinciding with a growing existing demand, the CMA CGM Group extended its FEMEX service in the Black Sea with the addition of three new calls in Samsun (Turkey), Novorossiysk (Russia) and Constanta (Romania).

The CMA CGM Group will become the only shipping line offering a direct coverage into the Black Sea region from / to North Europe.

The new FEMEX service will also link, via its two hub ports of Malta and Tangiers, CMA CGM worldwide services with Black Sea ports. This will enable the Group to offer its customers yet a wider coverage and fastest transit time.

Moreover, import transit time into Thessaloniki will be improved by five days, as this will be the first port of call of the southbound rotation beyond Malta

The new rotation, as follows, will start from Hamburg on the 20th February with CMA CGM Lavender:

Hamburg – Antwerp – Southampton – Tangiers – Malta –Thessaloniki – Gebze – Ambarli – Haydarpasa – Samsun – Novorossiysk – Constanta – Ambarli – Gebze – Gemlik – Aliaga – Malta – Tangiers – Casablanca


Nicolas Sartini, Group Senior Vice-president CMA CGM Asia-Europe lines declared, "CMA CGM is once again taking the lead in innovative maritime services: this extended FEMEX into Black Sea will be the first service directly linking North Europe and the expanding ports in Black Sea. In addition to providing a direct link between North Europe and Black Sea, shippers will benefit with several opportunities to connect with CMA CGM global network via the two hubs of Malta and Tangiers."