Seaspan Partners with Lockheed Martin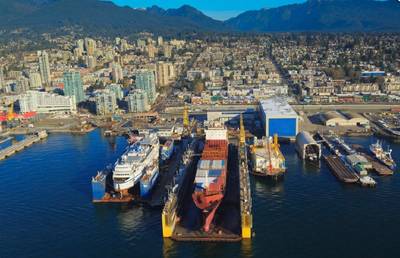 Seaspan Shipyards (Seaspan) has awarded Ottawa-based Lockheed Martin Canada (Lockheed Martin), a contract for work on Canada's new Joint Support Ships (JSS).

At $118M, this is the largest contract package that Seaspan will award for work on the JSS, said a press release.

Lockheed Martin is one of several major systems integrators that Seaspan is working with in order to meet its commitments under the National Shipbuilding Strategy (NSS).

Seaspan and Lockheed Martin have an established relationship as partners on several programs for the Royal Canadian Navy and, more recently, the Royal New Zealand Navy, in maintaining and upgrading vital military assets.

Lockheed Martin will provide a state of the art Command Management System based around the CMS 330 for the JSS. CMS 330 integrates a ship's weapons, data, sensors and other equipment into a single operating system.

The system has been designed and developed in collaboration with the Royal Canadian Navy (RCN) and optimized for Canadian Doctrine and Operating procedures. It provides for total system program performance, complete with a full suite of training systems and logistical support tailored to meet the needs of the women and men of the RCN.

"As we develop a Canada wide supply chain to deliver on our commitments under the National Shipbuilding Strategy, Seaspan Shipyards is excited to partner with Lockheed Martin Canada in providing leading edge solutions for our women and men in uniform. Our partnership with Lockheed Martin Canada will create and sustain highly skilled middle class Canadian jobs, encourage export opportunities, and support investment in Canada," Mark Lamarre, Chief Executive Officer, Seaspan Shipyards said.