Sentinel Awarded Contract for Patrol Vessel Charter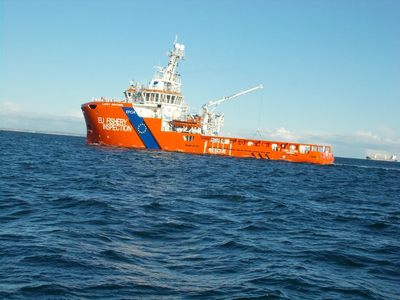 Aberdeen-based Sentinel Marine has been awarded a contract to provide a patrol vessel to be chartered by the European Fisheries Control Agency (EFCA) in international and EU waters. Lundy Sentinel is one of the firm's growing fleet of new built multi-role emergency response and rescue vessels (ERRVs).
The contract to charter the Lundy Sentinel is for an initial period of two years, with an option to extend for a further two years. The framework contract provides for a maximum amount of 20m Euros in four years.
It was awarded following tender.

The majority of Sentinel Marine's fleet is used to provide support for the offshore industry, and this is the first time one of its vessels has been utilized for the fisheries sector.

EU fisheries inspectors will use Lundy Sentinel as a platform for the monitoring, boarding and inspection of fishing boats as well as associated transport and support vessels. It will be deployed in EU and international waters as well as in third country waters where possible, from the Mediterranean and Black Sea to the North Sea and Baltic Sea, as part of joint deployment plans and other operations.

It is possible that Lundy Sentinel will also be used for other operations besides fisheries control, in the framework of the European coastguard cooperation, including search and rescue, border control, disruption of trafficking routes, detection of criminal activities and enforcement of EU and national legislations.

Sentinel Marine has made a significant investment into developing a new breed of modern ERRVs: six are currently operational in the field, with a further three currently under construction and scheduled to enter service at various points throughout 2018.

All have been fitted out with the latest technology, modern accommodation and crew facilities and are constructed with low noise and vibration to aid the comfort of the crew.

The vessels are attractive because they have a multi-role function. In addition to their main focus of protecting and saving lives, they can perform a wide range of other duties from cargo storage to dynamic positioning.

Sentinel Marine chief executive officer Rory Deans says, "Our modern purpose-built vessels combine a modern, comfortable and very safe working environment with all the efficiency benefits that a multi-role vessel brings.

"Not only are all the vessels in the Sentinel Marine fleet extremely fuel efficient, but the fact that they can perform tasks other than a traditional rescue and recovery role means that they can deliver additional cost savings to the client.

"This contract with the EFCA demonstrates that there is demand for the type of flexibility and efficiency that our fleet of ERRVs can bring outside our traditional oil and gas market."

The British-flagged Lundy Sentinel was built in 2015 and she is 61m meters in length. She has the capability to launch up to three boarding boats.