President Trump: "End Sequesteration"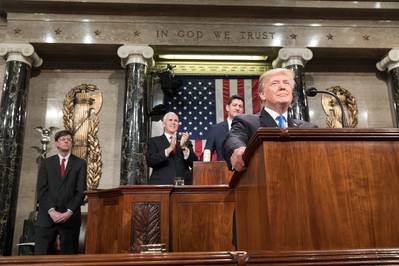 In his first State of the Union Speech from the U.S. Capitol on January 30, 2017, President
Donald J. Trump called
for
Congress
to act to end Sequestration, freeing funds for the U.S. military to, among other things, build the
355-ship Navy
.
The Sequestration has been a hot-button topic for many years in U.S. shipbuilding circles, and in a
recent interview
with
Maritime Reporter & Engineering News
,
Matt Paxton
, president of the Shipbuilder's Council of America, said: "If you are sitting on that navy side of things, it is essential that we end Sequestration, which is something we have been advocating since day one. Once that happens, then we have to get creative on building up this Navy fleet. We have to be serious about alternative funding approaches to shipbuilding. We have to have multi-buy, multi-block contracts to spread out the cost of these vessels. This is going to require a creative acquisition strategy."
Sequestration is a provision of the Budget Control Act of 2011 that imposes across-the-board spending cuts if Congress and the White House cannot agree on more targeted cuts aimed at reducing the budget deficit, according the U.S. DoD.