German Shipbuilder FSG Launch Second Seismic Vessel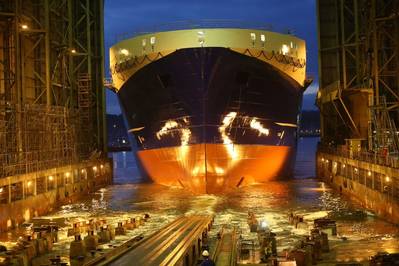 Flensburger Schiffbau-Gesellschaft (FSG) says it has launched a second offshore seismic survey ship 'Amazon Warrior' for owners WesternGeco.

FSG explains that the newbuilds Amazon Warrior and Amazon Conqueror are seismic ships are 127 metres long and 28 metres in breadth and the largest in the owner's fleet. As far as efficiency, comfort, reliability and durability are concerned, they meet the highest of demands and guarantee safe operation anywhere on the planet, including the Polar regions.

Ships of this type may spend months, even years, at sea without a break, which explains why the owners place much value on accommodation and onboard working areas. The interior of each ship covers about 7,000 square metres and there are 76 single cabins, as well as leisure and community areas (such as a cinema, sauna, fitness rooms, game room, galley with self-service area) and a large computer centre.

FSG Managing Director Peter Sierk told the many guests and employees gathered for the's official launch of Amazon Conqueror that "despite all the difficulties that can crop up with new projects, the shipbuilders of Flensburg have, during this difficult period, again delivered top-quality ships to the satisfaction of our customers and intends to go on doing that, as today's launch shows".