Shipbuilding: HII Awarded Additional Funding for CVN 78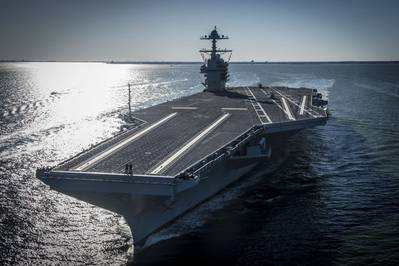 U.S. shipbuilder Huntington Ingalls Inc. has been awarded a $61,315,248 cost-plus-fixed fee modification to a previously awarded contract for additional material and labor supporting planning and the preliminary accomplishment of the post-shakedown availability/selected restricted availability (PSA/SRA) on USS Gerald R. Ford (CVN 78).
The planning work will be performed in Newport News, Va., and is expected to complete by summer 2018. Preliminary accomplishment of PSA/SRA will be started at Naval Station Norfolk (20 percent); but will be completed at Newport News (80 percent) by summer 2019.
Fiscal 2018 shipbuilding and conversion – post-delivery (Navy) in the amount of $8,590,876 will be obligated at the time of award and funds will not expire at the end of the current fiscal year.
The Naval Sea Systems Command is the contracting activity.