Ingalls Shipbuilding Acquires Automated Welding Solution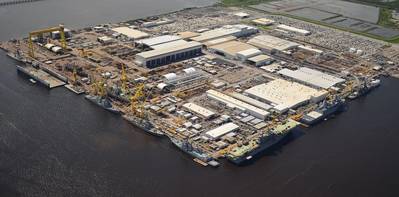 Pemamek Ltd. is delivering high-tech PEMA welding automation to Mississippi-based Ingalls Shipbuilding's Pascagoula shipyard.
The extensive and technologically advanced automation solutions provide Ingalls improved panel production and enhanced work flow.
Mississippi-based Ingalls Shipbuilding, a subsidiary of the Huntington Ingalls Industries, kicked off its "Shipyard of the Future" initiative in 2014. The multiyear initiative includes investments in modern infrastructure and
manufacturing equipment
, as well as technologically advanced procedure and processes. The planned investments will result in raised level of automation, enhanced production quality and improved work flow
Now in its third year of the modernization implementations, Ingalls Shipbuilding has agreed with Pemamek to acquire large-scale PEMA welding automation solutions to its Pascagoula shipyard.
The extensive delivery encompasses a state-of-art plate lengthening line, enable to feed two complete modern flat panel lines simultaneously, and several other highly advanced solutions like robotized welding and integrated milling and welding applications.
One of the plate joining stations uses laser-hybrid arc welding (LHAW) process combined with tandem MAG and is capable of welding plates up to 60 ft in length from one side and starting from thicknesses as low as 4 mm. The advanced welding processes together with integrated milling will provide precise seam preparation and efficient welding for the entire length of plates.
In the LHAW panel line, one of the advanced features is a fully automated robotized welding of entire panel stiffening. The solution includes multiple robots utilizing the hi-tech programming and control software, PEMA WeldControl 200. The software guarantees effortless management and communication between material,
machinery
and operator.
Each of the solutions is fully customized and they are outcome from the close two-year collaboration including detailed discussions and careful planning between the teams of Ingalls and Pemamek.
The delivery overseas is entirely a turnkey project, so in addition to all-round installation and training services, also technical and production support services are included.