Canada Launches Shipbuilding Consultation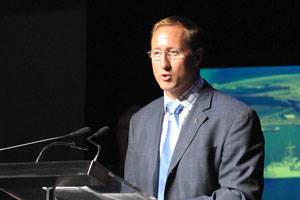 July 27 marked the opening of the Government of Canada's Shipbuilding Consultation, which seeks input from key stakeholders on comprehensive and viable options for a long-term, sustainable Canadian shipbuilding strategy.

The Government is committed to building and maintaining an effective federal fleet of ships for maritime security and services. Fleet renewal plans could see the Government invest in excess of $40 billion to build more than 50 large vessels over the next 30 years.

"I would like to thank the Canadian shipbuilding industry for their attendance at this consultation and for their invaluable contribution to this important initiative," said the Honourable Peter MacKay, Minister of National Defence and Minister for the Atlantic Gateway. "Our combined efforts will help ensure the Canadian Navy gets the fleet of vessels it needs, while high-value jobs are created and sustained in shipyards across Canada."

"In the past few federal budgets, our Government has invested $1.5 billion in the Canadian Coast Guard fleet, demonstrating our ongoing commitment to the safety and security of coastal communities, as well as the industries that sustain shipbuilding, and we will continue to invest," said the Honourable Gail Shea, Minister of Fisheries and Oceans. "I am looking forward to working more closely with industry as we plan our investments for the future."

The two-day Government Shipbuilding Consultation is being held in Gatineau, Q.C. The Government will use the information received at the consultation to outline its objectives for a long-term shipbuilding procurement strategy, along with its commitment to federal fleet renewal.

"We recognize that Canada's marine industry is a key economic driver and the lifeblood of many communities from coast to coast," said the Honourable Tony Clement, Minister of Industry. "This Government is taking the opportunity to seriously look at a new approach to shipbuilding procurement, one that will engage industry in an open and frank manner."

"This Government is providing the men and women of our Canadian Forces and Canadian Coast Guard with top of the line equipment, while ensuring Canadian taxpayers get the accountability they expect and deserve," said the Honourable Christian Paradis, Minister of Public Works and Government Services. "Today we are building on our long-term relationship with domestic shipbuilders so they can continue to deliver and support our Canadian fleet."

The input of Canada's marine industry is a crucial part of building Canada's future fleet. The consultation, led by the Department of National Defence, will open with remarks from Ministers MacKay, Shea, Clement and Paradis. It will also include presentations from government officials, the Canadian Association of Defence and Security Industries (CADSI), and the Shipbuilding Association of Canada (SAC), and will be accompanied by discussion sessions involving all participants. Industry will then have 45 days to provide written feedback on their view of the way forward.