Horizon Shipbuilding Delivers Motor Vessel to Army Corps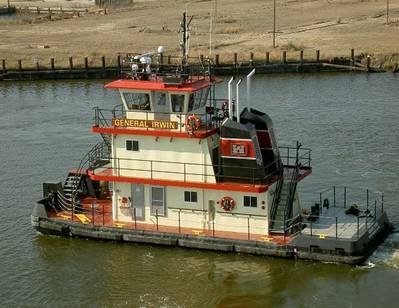 Bayou La Batre, Alabama - Horizon Shipbuilding Inc. has delivered the M/V General Irwin, an inland river towboat, to the Army Corps of Engineers in Eufala, Alabama.

The General Irwin is equipped with two steering rudders and four flanking rudders, and is powered by two Caterpillar diesel engines, providing 770 horsepower to her 48-inch propellers. Her hull speed when towing is four knots; her full speed is eight knots.

The vessel was christened on March 30 during a ceremony in Eufala featuring Army Corps of Engineers leadership, members of the greater Eufala civilian community, and two descendants of General Irwin, for whom the vessel was named. Also attending the ceremony from Horizon were Travis Short, President, and John Carnley, who served as project manager on the construction.

The vessel will be used for operations and maintenance activities on the ACF Rivers Project by the Army Corps of Engineers.