Horizon Shipbuilding Delivers Two Towboats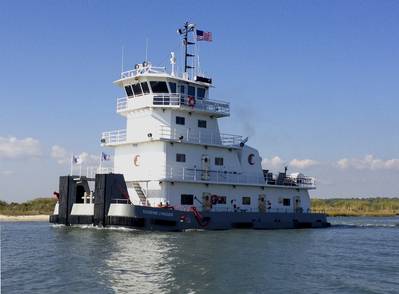 Both Milestones Met In Same Week.
Horizon Shipbuilding has delivered the fourth in a series of 120' Towboats to Florida Marine Transporters of Mandeville, LA. The M/V Dale Artigue joins her sister ships, M/V's Capt. W. D. Nunley, Capt. Kirby Dupuis and Brees in pushing cargoes throughout the inland waterways of the United States.
"Like the other towboats we have built, the Artigue adds to FMT's stable of workhorses," said Ben Forrest, Horizon Project Manager. "The workmanship that our guys put into this boat is easily recognizable. These boats are real powerhouses and Horizon's craftsmen are to be commended for their hard work. Also, my hat's off to Florida Marine for investing in such a strong and robust vessel." The M/V Dale Artigue was designed by John Gilbert and is 120' long by 35' wide with a 10' draft. The towboat is four-decked and is outfitted for service in areas restricted to overhead clearances and draft limitations. She is powered by two 2,450 hp C280 Caterpillar engines coupled to Lufkin reduction gears. Ten inch shafts turn five-blade, stainless steel wheels manufactured by Sound Propeller Services, Inc. that are mounted in kort nozzles for maximum efficiency. Auxiliary power is supplied by two 175 kw Caterpillar C9 generators. Horizon has two additional 120 footers under production, as well as two more 140 towboats.
Shortly after delivery of the Dale Artigue, Horizon also delivered the M/V Eugenie J Huger to Canal Barge Company of New Orleans, LA. The Huger is 74' long with a 32'6" beam and an 8'6" draft. Designed by Marine Design, Inc. of Gulf Breeze, Florida, the vessel will push two fully loaded fuel barges at 10 knots. Its 2000 horsepower is provided by Cummins K38M, tier II 12 cylinder marine propulsion engines and drives 74" Kahlenberg propellers through Reintjes WAF 562 reverse reduction gears. Comfortable accommodations are provided six personnel plus the captain. One unique feature is the fuel and fresh water stores for a vessel of this size, 30,000 and 11,400 gallons, respectively. Ship's power is generated by two 85 KW Cummins generators.
These are some of the first vessels to take advantage of Horizon's recently completed $5.5 million facility upgrade. The upgrade, which included new steel bulkheads with concrete caps, pier facilities, electrical power upgrades, potable water and bulk welding gas line installation and production and administration building upgrades, improves Horizon's ability to safely and productively provide shipbuilding, repair and other marine services.