New Bulker Design Introduced by Imabari Shipbuilding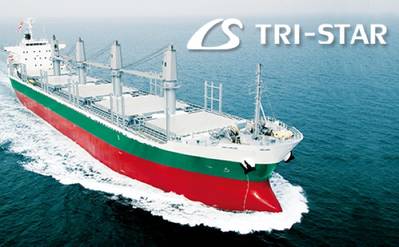 Japan's Imabari Shipbuilding Co., Ltd. introduce a new class of 33,000 dwt bulk carrier designated 'IS' TRI-STAR.
The shipbuilders say that its share of the handy-size bulk carrier market is ranked among the highest in the world. Since 2010, over 30 vessels of the "IS" BARI-STAR, 38,000 dwt-type bulk carrier have been delivered, and over 200 vessels of the 28,000 dwt-type have been delivered since 1990.
However, to satisfy customer demand they have decided to launch their newly developed 33,000 dwt- type bulk carrier – "IS" TRI-STAR into the handy-size bulk carrier market. ("IS" stands for the capital letter of Imabari Shipbuilding. "TRI-STAR" is a word coined of "three" which comes from the figure of 33,000 dwt, and "STAR" designates the shipbuilders aspirations for the class).
The characteristics of the "IS" TRI-STAR are as follows:
·
*Common Structure Rules (CSR) are adopted, and higher general versatility and bigger hold capacity result.
*Excellent fuel consumption efficiency through lesser hull resistance, fuel saving devices and electronically controlled main engine.

*Adequate deadweight on shallow draft without affecting fuel efficiency.

*Environmentally friendly double hull structure is adopted for F.O. tanks, which prevents oil spill in the event of hull damage.