ShipInox: AiP on Small LNG Vessel Design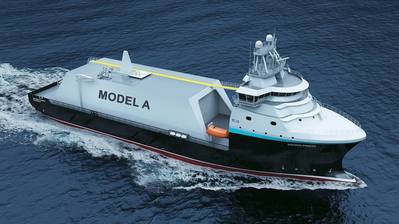 DNV GL presented ShipInox with an Approval in Principle (AiP) for its new small-scale LNG carrier/bunker vessel design, reportedly the first ever class-approved design based on an offshore supply vessel (OSV). With a length of 92 meters the ship will have a carrying capacity of 6,000 cubic meters.
"The enthusiastic support we have received throughout the challenging development of this design makes us feel very humble," says Rune Østbøe, CEO of ShipInox. "Not only DNV GL and the Norwegian Maritime Authority (NMA), but a diverse range of companies spanning Innovation Norway, to the LNG-specialists at Torgy, and Fearnleys have all enabled us to deliver on this design. We are now in a position where we can help to accelerate entries into small-scale LNG with this fast-to-market and low-cost LNG carrier."
"This AiP is the result of an excellent cooperative process that included a feasibility workshop with the designers, the Norwegian Maritime Authorities, an OSV owner, and DNV GL experts," says Johan Petter Tutturen, Business Director for Gas Carriers, DNV GL – Maritime. "We have been able to ensure that this novel design is in full compliance with the 2016 IGC Code and with the relevant class rules. It is a testament to the expertise and engagement of all parties involved that we could realize this challenging concept, and we look forward to seeing the first projects hit the water."
An Approval in Principle is an independent assessment of a concept within an agreed framework, confirming that the design is feasible and no significant obstacles exist to prevent the concept from being realized. The AiP is typically carried out at an early stage of a project to confirm its feasibility towards the project team itself, company management, external investors or future regulators.