Pacific Basin Adopts DNV GL's ShipManager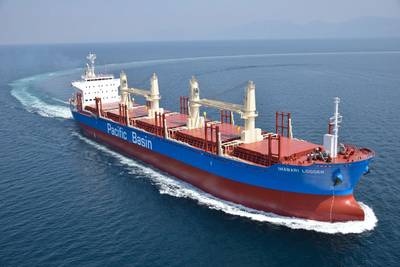 Pacific Basin will implement the DNV GL's ShipManager fleet management system on its owned fleet within the next two years.
Shipping companies often have various IT systems that cover different aspects of their operations, and therefore have challenges in aligning data input and output for efficient decision-making, reporting and ship-shore communication.
The implementation of the ShipManager system in Pacific Basin will simplify and optimize their ship management, allowing extensive fleet-wide data collection, integration and analysis, thereby improving performance.
"With this strategic partnership, we are strengthening our technical and customer services capacity in the Asia-Pacific region. DNV GL's value proposition is unique and we are positioned as a leading provider of fleet management software and services worldwide," says Are Føllesdal Tjønn, Managing Director, DNV GL - Software."
"DNV GL has instilled confidence during our selection process and we look forward to developing a long term partnership and friendship during the implementation process," adds Captain Jay K. Pillai, Fleet Director of Pacific Basin.
"Through in-depth discussions and workshops we demonstrated our domain expertise and how our software and best practice approaches can increase safety and improve operational efficiency," said Torsten Kappel, Director of Operations for Maritime and Class solutions at DNV GL.
Pacific Basin will be using six integrated ShipManager modules: Technical, Procurement, Project, Crewing, QHSE and Analyzer. The modules will support Pacific Basin in generating dynamic OPEX (operational expenditure) reports and in monitoring KPIs. ShipManager Analyzer provides exceptional decision-making support, as it extracts data from all of the ShipManager modules for data mining and analysis. "This is expected to reduce a lot of manual work and give our fleet managers all information in one place for management of data and trends. The system also allows the integration of data from previous solutions," said Raghvendra Lavania, project manager of Pacific Basin.
At Pacific Basin there is a constant focus on the crew, and ShipManager will be a central part of the communication between ship and shore. "The system is easy to learn, user-friendly and technically innovative," Lavania said. "ShipManager will integrate to our new accounting system and provide customized reports to manage our fleet efficiently."