US-flag Great Lakes Shipping below October Average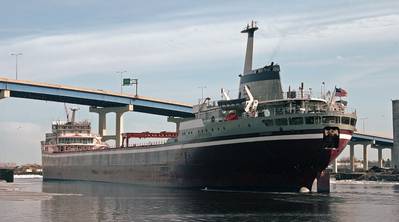 U.S.-flag Great Lakes freighters (lakers) moved 9.5 million tons of cargo in October, up 7.1 percent compared to a year ago, but slightly behind the month's long-term, the Lake Carriers' Association (LCA) reported.
Iron ore cargos for steelmaking totaled 4.8 million tons, an increase of 9.4 percent compared to a year ago, LCA said. Coal loadings rose almost 9 percent to 1.4 million tons, and limestone cargos increased 5.3 percent to 2.7 million tons.
Year-over-year U.S.-flag cargos total 70 million tons, an increase of 3.3 percent over the same point in 2016. Iron ore shipments have increased 7.4 percent to 37.3 million tons. Coal cargos have increased 195,000 tons to 10.8 million tons. The 18 million tons of aggregate, fluxstone and scrubber stone shipped have pulled that trade to within 2.1 percent of last year's end-of-October total.