Ship-to-ship LNG Bunkering Starts in Port of Zeebrugge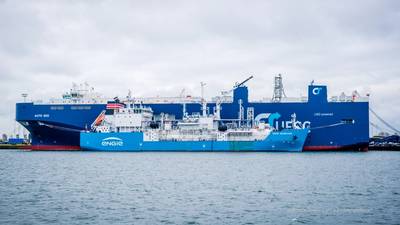 The bunkering vessel ENGIE Zeebrugge performed in the port of Zeebrugge, Belgium, its first deliveries of liquefied natural gas (LNG) as a marine fuel to M/V Auto Eco and M/V Auto Energy, the two new gas-propelled pure car and truck carriers (PCTCs) of UECC. The LNG bunkering operations were conducted simultaneously while cargo operations for PCTCs were taking place.
ENGIE Zeebrugge, which is the world's first purpose-built LNG bunkering vessel, arrived in Zeebrugge at the beginning of April after delivery from Hanjin Heavy Industries & Construction Co. Ltd in Busan, South Korea, and a 38-day maiden voyage. She is now executing a weekly service to the PCTCs of UECC and is the world's first LNG bunkering vessel to perform regular ship-to-ship bunkering services. ENGIE Zeebrugge loads LNG at Fluxys' LNG terminal which recently commissioned its second jetty specifically designed for also receiving very small LNG carriers.
This commercial brand was launched in September 2016 by ENGIE, Mitsubishi Corporation, and NYK Line to promote and develop the use of LNG as a sustainable alternative to conventional oil-based marine fuels.