Cochin Shipyard Delivers 2 RoRo Vessels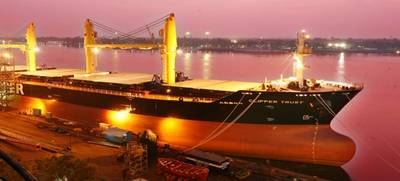 The Cochin Shipyard Limited in India delivered two RoRo vessels to the Kochi Municipal Corporation (KMC), Press Trust of India reported.
The vessels with modern equipment are expected to provide a great relief to the transportation problems in Kochi, the report said quoting company officials.
With a length of 27 metres and 8.25 metres breadth, the vessels can achieve speeds of six knots, it said.
The vessels are provided with ramps on either side, both in the forward and aft, eliminating the need for reverse parking of the vehicles on the ferry.
The diagonally placed azimuth thrusters of these vessels eliminates the need for turning of the vessels at the jetty and also allows for better manoeuvrability, especially during high tidal currents.
The ferries are designed to accommodate 18 cars plus 50 passengers or 12 cars and four 10 tonne trucks in addition to 50 passengers, the release said.