Korean Shipyard Delivers CMM Tankship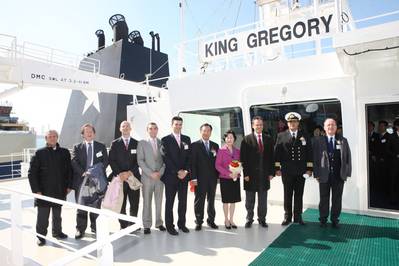 Consolidated Marine Management (CMM) take delivery of 'King Gregory', first of two fuel-efficient medium-size tankers from Hyundai Mipo.

The 52,000 dwt King Gregory, is the first of two medium-range (MR), IMO II & III-class oil/chemical tankers contracted by Latsis Group's Consolidated Marine Management.

Classed by Lloyd's Register, the oil-and-chemical carrier has latest environmental and efficiency features

The ship features the latest equipment and technology to cope with new environmental requirements and energy-saving demands, according to Kostas Vlachos, Consolidated's Chief Operating Officer.

"She is equipped with an electronic main engine, a larger diameter propeller, mewis duct and ship-performance monitoring -- transmitting data to the office, including but not limited to the monitoring of daily and specific fuel oil consumption and, hence, CO2 emissions, the trim of the ship, and other key data – to help ensure the optimum performance," Vlachos said.
It is estimated that the ship's daily fuel consumption in the ballast condition with a speed 12.5 knots will not be more than 17.5 metric tons (MT), while the consumption in laden condition at a speed 13 knots will be less than 19.5 MT.

The owners decided to install a ballast water treatment system supplied by Ocean Saver, the first system to be installed in an MR type tanker with deep-well cargo pumps. The ship also complies with all Exxon Mobil 2010 mandatory requirements and others that are strongly recommended, including those for STS operations (for the ship to ship transfer of oil at sea) such as vapour-emission control systems, certified cranes for personnel transportation and oil-water separators certified for 5ppm.

King Gregory has started a three-year time charter with Cargill, with both owners and charterers expected to realise considerable savings when compared with other ships in its class.

In the photo CMM's Kostas Vlachos stands third from right.