Grand Bahama Shipyard Expands Sales Team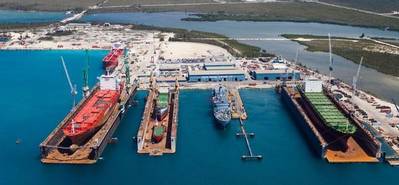 Grand Bahama Shipyard Limited (GBSL) has added three regional sales directors to its Marketing and Sales Division, with posts in the Americas, Europe and Asia/Middle East.
According to the shipyard, their prime objectives will be to increase yard exposure, as well as develop future projects with existing and new customers for their refit, refurbishment or revitalization projects.
The team is comprised of the following:
Andre Szadzinski: Regional Sales Director – America
Andre Szadzinski joined GBSL in August 2016 as Regional Sales Director for North and
South America
. Before joining GBSL, he worked for Remontowa Holding as the Commercial Area Director for the America's and for three years: Asia. During his time there he managed 12 international sales agents and directed the day to day activities of the global ship repair and conversion facility with 1,500 employees and $100 million in annual revenue. Among his achievements he reached the company's sales goal for the first time in 65 years and sat on the Board of Subsidiaries: Famos, Mors, and Temat at Remontowa.
Prior to this Szadzinski managed an investment partnership with investments in four U.S. states that specialized in the hospitality and retail industry. During this time Andre sat on the board of the International Marketing Co-Op for Best Western International and was a member of the advisory committee to the board of directors. Additionally, he was appointed Governor for Northern
Colorado which
allowed him to serve as a marketing leader for the 51 Best Western Hotels in Colorado.
Ng Teck Wee: Regional Sales Director – Asia / Middle East
Ng joined GBSL in August 2016 as Regional Sales Director for Asia and Middle East, with primary responsibility in regional business development and sales management. Prior to this, he spent about 12 years in commercial, finance and projects capacity, representing ship owning and ship management firms in Asia. He has a wide network of ship owners, operators, managers, financiers and service providers in Asia and has worked on multi-functional transactions valued at no less than $4 billion over the course of his career, ranging from fundraising exercises for owners to consulting projects with owners of varied nationalities.
Ng holds a Master's of Science in Finance from City University of New York and a Bachelor of Science in Statistics from National University of Singapore.
Brent Richardson: Regional Sales Director – Europe
Richardson joined GBSL in August 2016 as Regional Sales Director for Europe, focusing on developing existing and new business relationships together with the regional sales agents. With over 15 years' experience in the maritime industry, Richardson worked in a number of different roles in the Sales and Marketing Departments for Wilhelmsen Ships Service during his 13-year tenure, most recently as key account manager and sales director, where he was responsible for $350 million in annual revenue. Those years gave Brent extensive experience selling ship maintenance and service solutions to ship owners and operators and to ship managers, both in-house and third party managers.
Richardson has a Masters in Classics from Oxford University. He believes passionately in the value of establishing and maintaining long term partnerships with customers which generate tangible benefits for all parties.