China Shipyards Get B.Delta Design Bulker Orders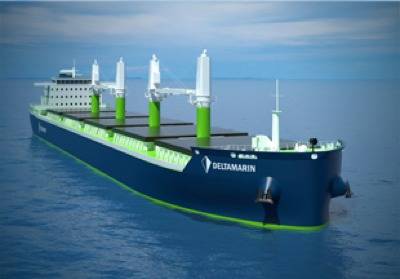 The latest batch of orders for Deltamarin's B.Delta design bulk carriers comes from international shipowners, all to be built in China.

The B.Delta43 order by the German ship owner HBC Hamburg Bulk Carriers at CSC Qingshan Shipyard and the B.Delta37 order by the Tunisian ship owner Transbulk at Yangfan shipyard are the latest additions to Deltamarin's B.Delta series. On top of these new orders, China Navigation Company (CNCo) has exercised an option for another four B.Delta37 vessels at Chengxi Shipyard, d'Amico an option for one more B.Delta37 at Yangfan Shipyard, and M.T. Maritime Management Group (MTM Group) at the CSIC / Xingang shipyard has exercised its option for two more B.Delta37's.

These new additions bring the total order number of B.Delta designs and their derivates already to 59 vessels, all at Chinese shipyards.

Deltamarin's focus in the B.Delta series design has been on fuel efficiency. The proven solutions in the B.Delta design that enable improvements to existing designs are a combination of hull form, propeller, rudder and main engine solutions applied in a novel way, and Deltamarin say that consistent results have been gained in model tests with all the B.Delta designs.

The 43,000 tdw bulk carriers ordered by Hamburg Bulk Carriers (HBC) are a new size in the B.Delta family with overall length of 189.99 m and beam 30.0 m. The cargo carrying capacity is 54,000 m3, and they are designed as double hull bulk carriers with shallow draft and good manoeuvring capabilities for operation in restricted water depths, with high energy efficiency and very low fuel consumption.