Russian Shipyards Deliver Tugboat, Short-Sea Bulk Carrier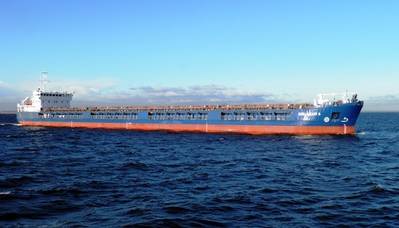 The sixth short-sea multi-purpose bulk carrier for North-West Shipping Co., named 'Neva Leader' has been delivered by the Nevsky Shipyard, as part of a project by Marine Engineering Bureau-Design-SPb, JSC. The tugboat RB-401 was built by Pella Shipyard for port operations in Kalingra, and to support the Russian Baltic Sea Fleet.

1. The Neva Leader
The shipbuilder explains that multi-purpose dry-cargo vessels of deadweight more than 7000 tons RSD49 project are the largest of the existing dry-cargo vessels of the 'river-sea' type in Russia. The vessels are intended for transportation of general and bulk cargoes including grain, timber and large-dimension cargoes in the Caspian Sea as well as in the Mediterranean Sea, Black Sea, Baltic Sea, White Sea and North Sea including routes around Europe and on the Irish Sea in winter.

2. The RB-401
According to Pella Shipyard, the tugboat is intended for towing and berthing operations in harbor, roadsteads and coastal areas which comply with R3 navigation area, refloating of ships and vessels, fire fighting operations at floating and shore objects, oil and petroleum content products, cargo transportation, ice breaking and erosion operations.