Damen Sells Shoalbuster to V.O.F. Sleepboot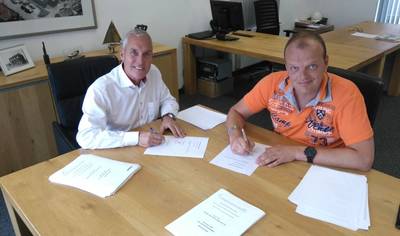 On August 29 a contract was signed by Jos van Woerkum, Managing Director of Damen Shipyards Hardinxveld, and Willem-Harm Mastenbroek, owner and managing director of V.O.F. Sleepboot ISA, for the delivery of a new Damen Shoalbuster 2709.
Based in Wijk bij Duurstede in the Netherlands, the company has undertaken projects across north west Europe and as far east as the
Caspian Sea
. The new Shoalbuster is replacing a 30-meter, multipurpose, anchor handling tug and will be available for work all over the world.
The Damen Shoalbuster 2709 is a highly versatile workboat 27 meters in length and with a beam of 9 meters, yet despite its compact size this version will have a bollard pull of 41.2 metric tons. The draught however is just 2.6 meters, making it ideal for maneuvers in shallow waters. The deck gear includes a 5.5 tonnes at 18.5 meters AKC knuckle crane, an anchor handling winch and a tugger winch. The vessel has quarters for up to seven people across five cabins plus a galley/mess area. The Shoalbuster 2709 has been in production for just over five years and is a popular design due to its size and capabilities.
Willem-Harm Mastenbroek gained experience with a Damen Shoalbuster when working with a previous employer and since the establishment of his own company had been looking forward to acquiring one of his own. This year the right conditions, including a vessel in stock at
Damen Shipyards Hardinxveld ready
for finishing, came together and the deal was done. The naming ceremony is planned for later this year.