Shoaling Safety Zone Set in Santa Cruz Harbor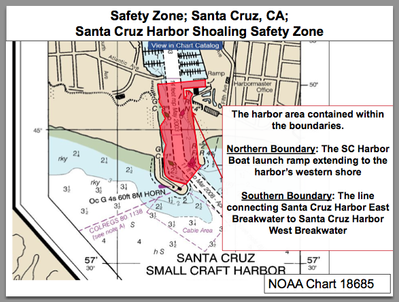 The U.S. Coast Guard informs it has established a safety zone for the entrance of the Santa Cruz small craft harbor effective Friday, March 18, until Sunday, May 1, or upon the completion of emergency dredging as announced via broadcast notice to mariners.

The zone includes the navigable waters as defined by the area contained with two borders: a northern border defined by the line created by extending the Santa Cruz Harbor boat launch ramp to the harbor's western shore and a southern border defined by the line connecting the end points of the Santa Cruz Harbor east breakwater to Santa Cruz Harbor west breakwater. Boaters may use the harbor entrance upon receiving approval from the harbormaster on VHF-FM channel 9, the Coast Guard said.

Due to the extreme shoaling that is occurring as a result of the El Nino season, the Coast Guard, in conjunction with the Santa Cruz Harbormaster, determined that shoaling at the entrance to the harbor has made it unsafe for many vessels to transit, particularly during high surf or extreme tides. At this time the dynamic movement of the shoals, which is a build-up of sand and/or mud within the channel, has caused erratic and drastic changes in depth that are not consistent with charted depths. The resulting hazardous conditions may cause vessels to run aground or to capsize due to breaking waves.