VSTEP's Nautis Desktop Simulation Trainer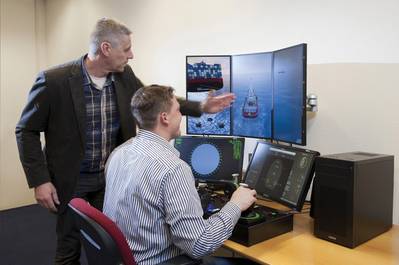 VSTEP, a European-based developer of maritime simulators and virtual training software is offering a new option in Maritime Simulation with its Nautis Desktop Trainer. Designed to allow smaller maritime schools, corporate training departments and public educators access to dependable, affordable and portable simulation options, the product comes standard with three screens but can be configured for six or more. Customizable to each customer's requirements, the Nautis Desktop Trainer needs only one customized notebook or PC computer to operate it.
The portable, Six-Screen model, Nautis Desktop Trainer has been delivered to two domestic training schools, with both using it to train and assess mariners to the STCW-95 competencies. Assessments can include Basic Ship-Handling, Collision Avoidance, BRM, Emergency Procedures, separate RADAR, ARPA and GMDSS training modules and full integration with OEM Dynamic Positioning simulators. Customers using the Nautis Desktop Trainer include towing companies with offices and facilities at multiple locations, using its portability for "hands-on" training for their Mate Trainees "before they get to take the chair". The DNV Certified Maritime Simulator, which includes a Three Screen System, Vessel Control panel display, outside vessel view display, ECDIS/RADAR visual display and separate vessel controls can be configured for as many as 24 separate vessel models with scenarios in 18 worldwide ports with additional and custom port development possible.
Vessel control integration uses NMEA 0183 compliant standards, including Azipod, DP, wheel, joystick and flanking rudders and a separate Instructor Station and multi-bridge configuration. VSTEP's initial customer, TOS, uses the system for providing training and assessment of tugmasters at remote locations. Their trainer, himself an experienced azimuth tugmaster, travels to places where the demand for tugmasters with ASD tug experience is high, taking the simulator in a couple of suitcase. At location, the simulator can be set up by him in a few hours time. Assessments of tugmasters who claim to have ASD experience are given, and a test on the simulator will point out within 2 minutes whether the tugmaster's claim is true or false. Dependent on the rest of the assessment, the tugmaster can then get the first few lessons of ASD training on the simulator, after which the training moves on to a real ASD tug.
The new system puts a new slant of distance learning for the maritime world, and exercises can be designed to have instructor feedback built-in. An Exercise Logic Editor, with which highly interactive scenarios become possible, can involve target ships that start moving at a predefined moment, and they can be programmed to always run on a collision course with the trainee's vessel. VHF voice messages can be triggered by the exercise logic.
For smaller tug operators and educational facilities lacking the funds to build their own "brick-and-mortar" simulators, VSTEP's Nautis is an affordable and viable addition to the move towards remote training that saves companies money, and mariners time during scheduled vacation periods. The portable version of the NAUTIS Tug simulator provides high quality, realistic tug handling training – at any location worldwide. Depending on the options selected, the cost of set-up ranges from $75,000 to $150,000. Founded in 2002, VSTEP provides customer support from its headquarters in Rotterdam, supported by a global network of local partners. Founded in 2002, VSTEP has delivered numerous simulators worldwide for clients and governmental organizations.

(As published in the January 2013 edition of Marine News - www.marinelink.com)