US Warship Makes Singapore Strait Rescue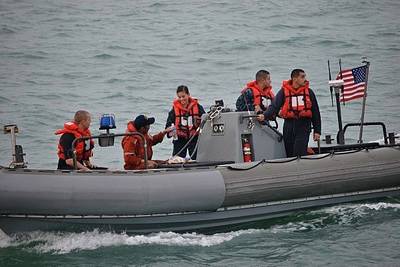 Boat crew from the Arleigh Burke-class guided-missile destroyer 'USS Spruance' (DDG 111) have rescued a Filipino mariner who fell overboard from a vessel in transit through the Singapore Strait.
The Malaysian-flagged motor vessel Pantagruel made a 'man overboard' distress call and the Spruance picked the man up with its rigid-hull-inflatable boat soon afterwards. He was assessed by the crew as being in stable condition and was then transferred to a Singapore Police Coast Guard vessel.

"The boat crew did an excellent job reacting to a stressful situation," said Lt. j.g. Katherine Miyamasu, Spruance's boat officer. " [Boatswain's Mate First Class] Jesus Hernandez spotted the man from the RHIB and everyone else sprang into action. It was a great day to be in the Navy." 


Spruance departed its homeport of San Diego Oct. 16, 2013, and is deployed to the 7th Fleet area of operations supporting security and stability in the Indo-Asia-Pacific region.